Practice
Sascha Zander and Christian Roth founded the zanderroth office in Berlin in 1999, a time following the fall of the Berlin Wall when the city's urban structure was beginning to expand again on the basis of its parcel structure from the Gründerzeit era, i.e. "founding years."
Today, the office is known for making innovative, experimental, and affordable housing, as well as for effective building group concepts that have been used to develop and realize numerous projects. Beyond its focus on innovative housing construction, the firm is deeply engaged in developing new urban planning concepts.

A hallmark of zanderroth's architecture is the rigorousness of its conception, organization, and design, as can be seen in its multiple award-winning housing projects in Berlin – including projects at Zelterstrasse, Liebigstrasse, Pasteurstrasse, und Thulestrasse.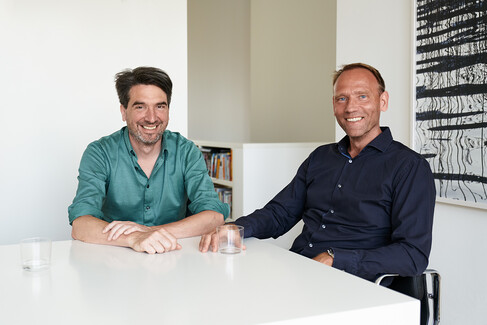 Founding partner
Sascha Zander

Studied at RWTH University Aachen, Kunstakademie Düsseldorf, Bartlett School London
1995 – Diploma in Architecture, University College London, The Bartlett School
1997 – Diploma in Urban Development, RWTH University Aachen
1999 – Partner at zanderroth
1999 – Member of the Berlin Chamber of Architects
2005 – Founder of SmartHoming GmbH
2013 – Member of BDA Berlin

Christian Roth

Studied at RWTH University Aachen, Kunstakademie Düsseldorf, E.T.S.A. Madrid
1998 – Diploma in Architecture, RWTH University Aachen
1999 – Partner at zanderroth
2006 – Member of the Berlin Chamber of Architects
2013 – Member of BDA Berlin

Associate

Burkhard Köhler
Studied at Technische Universität Berlin
2009 – Diploma in Architecture, Technische Universität Berlin
2017 – Member of the Berlin Chamber of Architects
since 2013 – Employee at zanderroth
since 2020 – Associated partner at zanderroth

Tilman Heiring
Studied at Technische Universität Berlin, E.T.S.A. Sevilla,
Universidad de Buenos Aires
2011 – Diploma in Architecture, Technische Universität Berlin
2017 – Member of the Berlin Chamber of Architects
since 2011 – Employee at zanderroth
since 2022 – Associated partner at zanderroth

Current staff

Ignacio Bóscolo, Brendan Day Finney, Elisa Gersdorf, Tilman Heiring, Silvia Hollmann, Kyu-Min Lee, Hanna Jensen, Milena Kalojanov, Tilman Müngersdorf, Eloïse Rudolph,
Pia Schreckenbach, Anne Schubert, Petra Schütze, Lukas Schlicht, Elisabeth Schwarz, Hannes Töpper

Former staff

Erman Aksoy, Olaf Behrens, Ronny Bittner, Nazlihan Cecen, Jan Conradi, Theodor Cuciureanu, Etta Dannemann, Lieselot de Mey, Greta Dettmer, Anja Dotter, Simon Filler, Jakob Findeisen, Isabel Fischer Perez-Lozao, Nick Förster, Janet Frenzel, Helge Fröhlich, Claudia Große-Hartlage, Daniel Güthler, Diana Gunkel, Kerstin Herzinger, Dimitri Dusty Hess, Svenja Heß, Birgit Karkos, Sebastian Kern, Torsten Klafft, Andreas Klapper, Jana Klingelhöffer, Sandra Köhler, Josefine Köppen, Olivier Krenz, Sarah Kronemeyer, Linda Kubatzsch, Kaja Kühl, Jörg Lammers, Annegret Liebscher-Tauber, Klemens Lorenz, Ann Lüdecke, Alexander Markau, Anne Muller-Reitz, Dirk Müller, Johanna Nagel, Guido Neubeck, Christopher Neuwirth, Max Obermark, Simon Palme, Ann-Sofie Paternoster, Søren Peters, Svea Petersen, Mascha Pfitzer, Martin Reichert, Detert Renner, Tony Rhiem, Vanessa Rotter, Tanja Salomäki, Mareike Schlatow, Annette Schmidt, Konrad Scholz, Ida Steffen, Katrin Schubert, Nils Schülke, Christoph Schuchardt, Sabrina Schreiber, Rebekka Schreyer, Lisa Schubothe, Eva Seifert, Hanael Sfez, Anna Siwiec, Simone Skiba, Kirstie Smeaton, Esther Soellner, Michael Spieler, Martha Stamogiorgou, Alina Störzinger, Sven Syndicus, Cornelius Tauber, Anna-Maria Tiedemann, Lutz Tinius, Sofie Vaasen, Jens Vandenheede, Daniel Verhülsdonk, Miriam Völcker, Barbara Weber, Henrik Wessels, Henning Wiethaus, Irina Willing, Joost Wilms, Franziska Wollscheid, Andrea Zaia, Verena Zeller, Reuven Zweigel